Farfalle Salad With Piquant Bell Peppers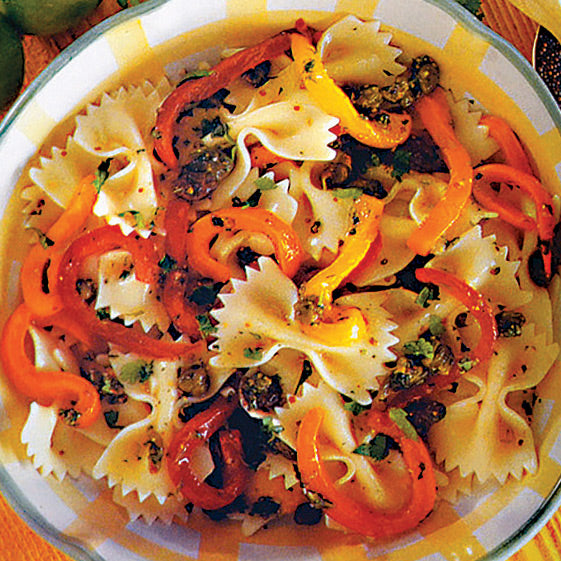 Ingredients
1 red, 1 yellow and 1 orange bell pepper
1 garlic clove, crushed
2 tablespoons capers
2 tablespoons raisins
1 whole-grain mustard finely grated zest and juice of 1 lime
1 teaspoon honey
2 tablespoons chopped cilantro
2 tablespoons White Truffle Balsamic Vinegar
8oz dried farfalle
Directions
1) Quarter the peppers and remove and discard the tops and seeds. Put into a saucepan of boiling water and cook for 10-15 minutes, until tender. Drain and rinse under cold water. Drain again. Peel off and discard the skin and cut the flesh into strips lengthwise. Set aside.
2) Put the garlic, capers, raisins, mustard lime zest and juice, hone, cilantro, White Truffle Balsamic Vinegar and seasoning into a bowl and whisk together.
3) Cook the pasta in large saucepan of boiling, salted water for 10-12 minutes, until tender or al dente. Drain.
4) Return the pasta to the pan, add the reserved peppers and dressing. Heat gently and toss to mix. Transfer to a warm serving bowl and serve.
Serve sprinkled with a few shavings of parmesan cheese.