Lemon Pepper Hummus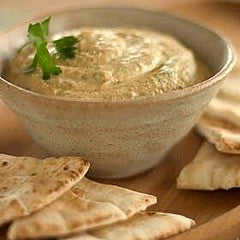 Ingredients
2 - 16oz cans chickpeas (garbanzo beans)
1 teaspoon salt
2 cloves garlic
5 tablespoons Lemon Pepper Infused Olive Oil
3 tablespoons fresh parsley
Directions
Chop fresh garlic. Drain chickpeas (save liquid). Combine all ingredients, except parsley, into a blender or food processor and blend until smooth.
Add saved liquid from chickpeas, a little at a time, to adjust consistency if too thick or dry.
Chop parsley and add as garnish before serving.
Serve with warm pita bread or pita chips.
---
Recipe by: Amber Hickerson
Serves 4