Lemon Arugula Salad With Roasted Brussel Sprouts & Roasted Tomato Bruchetta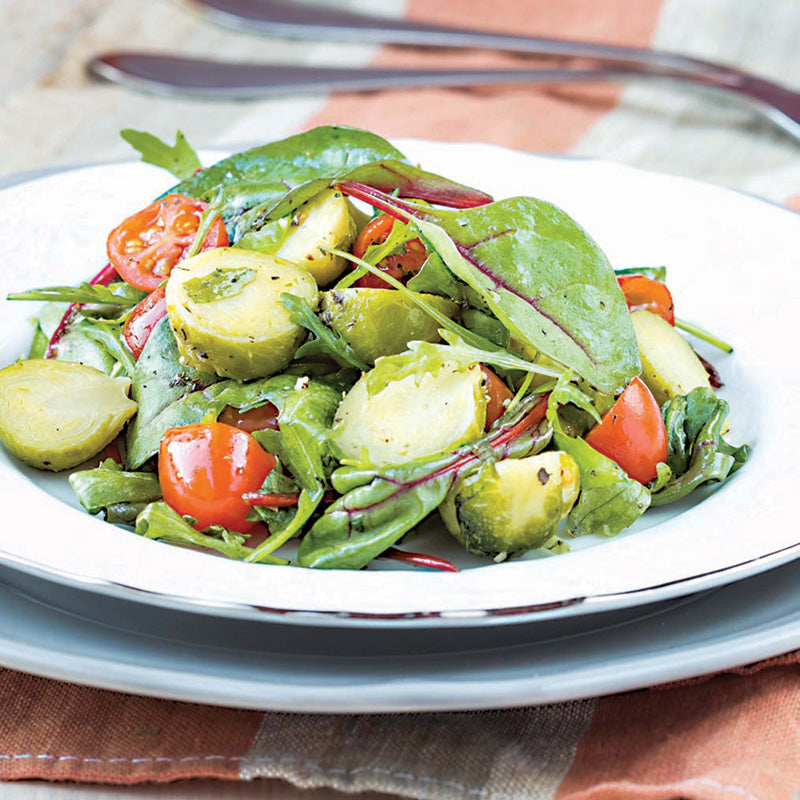 Ingredients
Salad:
2 bags of arugula, about 6 oz
1/4 cup Spanish Hoji Blanca EVOO, Sevillano EVOO, or Chilean Frantoio EVOO
1/2 lemon juiced (you may want more or less)
s.a.l.t. sisters Pink Himalayan Mineral Salt
Black pepper, ground
Parmesan cheese, shaved
Roasted Brussels Sprouts:
1/2 lb brussels sprouts
Italian Coratina EVOO
1 tsp s.a.l.t. sisters Organic Sel Gris French Grey Sea Salt
1/2 tsp black pepper
Roasted Tomato Bruchetta:
2 cups cherry tomatoes, halved
Chilean Frantoio EVOO
6 garlic cloves, finely sliced
1–2 tsp s.a.l.t. sisters Tuscan Farmhouse Blend
Directions
Preheat oven to 400°
Prepare roasted brussel sprouts and roasted tomato bruschetta. Recipes below:
Roasted Brussel Sprouts: Cut off brown ends of the brussel sprouts and pull off any yellow outer leaves. Cut sprouts in half. Mix them in a bowl with EVOO, sea salt and pepper. Pour them on a sheet pan and roast for 20–30 minutes. Stir occasionally.
Roasted Tomato Bruschetta: In a medium bowl, mix together cherry tomatoes, EVOO, garlic and Tuscan Blend, Spread evenly over a bar pan and roast for appx 15–20 min.
Lemon Arugula Salad: Toss the arugula, EVOO and lemon juice in a large bowl. Give it a taste to see if it needs more lemon juice and season with salt and pepper to taste. Place arugula on a large serving platter, top with roasted brussel sprouts and roasted tomato bruschetta. Use a vegetable peeler to shave thin piece of Parmesan over the top.