Simplicity - Pasta - Garlic - Tomato - Basil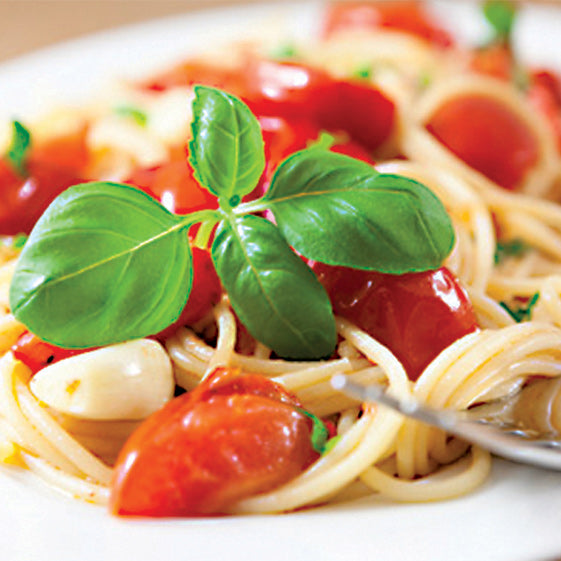 Ingredients
1 lb spaghetti
1 whole garlic
1-1/2 lb. grape tomatoes
15 large basil leaves
1/2 cup EVOO
Kosher salt
Pepper
3 Tbsp red chili olive oil
1/2 cup shredded Parmesan cheese
Directions
Preheat Oven to 400°
1. Wash and drain grape tomatoes. Place on a baking tray. Drizzle with about 3 Tbsp of EVOO. Sprinkle with about 1/2 tsp salt and 1/8 tsp pepper.
2. Take the garlic and cut the top off making sure to expose every piece of garlic within the head. Place the garlic on a piece of foil, enough to wrap the garlic with. Drizzle 1 Tbsp of EVOO on top and sprinkle with a generous pinch of salt and pepper. Wrap the garlic and place on the tray with the grape tomatoes.
3. Place tomatoes and garlic in preheated oven. Roast for 20 min. Let cool.
4. Cook spaghetti according to package directions, making sure however to add salt to the water once it boils. When I cook pasta, I add about 3 Tbsp of salt to 4 qts of water at boiling point before I throw the pasta in. The salt helps flavor the pasta. When the spaghetti is cooked al dente, reserve about 2 cups of the pasta water aside right before draining it. Set pasta aside. Drizzle pasta with a little oil to keep from sticking.
5. Take the roasted garlic and squeeze it onto a cutting board. Mash with a fork until looks like mush. Set aside.
6. Preheat a large sauté pan on the stove top. Add the remainder of your EVOO, about 1/4 cup, onto the pan. Add the tomatoes and garlic. Sauté for about 2 min. Add the pasta and about 1 cup of the pasta water. Toss pasta until garlic and tomatoes are fairly distributed throughout. Taste pasta and adjust with salt and pepper, if needed.
7. Take basil leaves and chiffonade. This is when you pile each basil leaf one on top of another, roll together from one edge to another like a sushi roll and slice it thinly, julienne slices. Unroll it and you get a bunch of basil strands.
8. Take basil strands and sprinkle on the pasta. Drizzle red chili olive oil over pasta and toss again one last time until basil is incorporated.
9. Take pasta and place in a large bowl. Garnish with Parmesan cheese.
Serve family style.