Steak Sandwiches With A Bordeaux Cherry Balsamic Glaze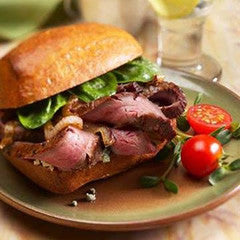 Ingredients
1/2 lb. deli roast beef, or any sliced beef
1/2 cup caramelized onion (1 large raw onion)
2 tablespoons lime juice
2 French rolls or baguettes
4 slices gruyere cheese
1 teaspoon kosher or sea salt
2 teaspoons fresh cracked black pepper
4 tablespoons Moresca Olive Oil
4 tablespoons Bordeaux Cherry Balsamic Vinegar
Directions
Julienne onion and cook over medium heat in a sauce pan with 2 table spoons of the olive oil and some salt until deep golden brown and tender, about 45 minutes. Set aside.
Slice and toast French rolls.
In a sauté pan or flat top, heat meat with remaining olive oil until it starts to brown a bit. Add lime juice and remaining salt and pepper. At the end toss in caramelized onions and drizzle in Balsamic and just heat through.
Add meat mixture to toasted rolls and top with gruyere cheese.
Place under broiler for 30 seconds to melt cheese.
Enjoy!
---
Recipe by: Amber Hickerson
Serves 2