Sun (Oven) Dried Tomatoes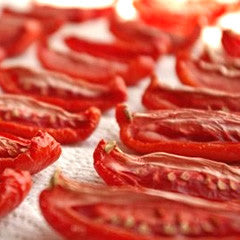 Ingredients
2 lbs. roma tomatoes
10 garlic cloves
5 tablespoons Basil Infused Olive Oil
5 tablespoons Oregano Infused Olive Oil
1 tablespoon kosher or sea salt
2 tablespoons fresh cracked black pepper
Directions
Slice tomatoes about 1/8 inch thick.
Finely chop garlic.
Combine all ingredients in a bowl, toss and coat thoroughly.
Place evenly in a single layer on a baking sheet with wire rack to allow air to circulate all around tomatoes.
Keep in oven at 200° for 3-4 hours. Check frequently.
Tomatoes should be dried out but not too dry.
These are a healthy and delicious way to add flavor to any dish.
Use in everything from pasta dishes to sandwiches.
---
Recipe by: Amber Hickerson
Serves 4